1/2
HD-G826
Quick Details
Payment:
PayPal,VISA,MasterCard,Western Union,L/C,T/T,D/P,D/A,Other
HD-G826-600 Electro-Dynamic Vibration Test System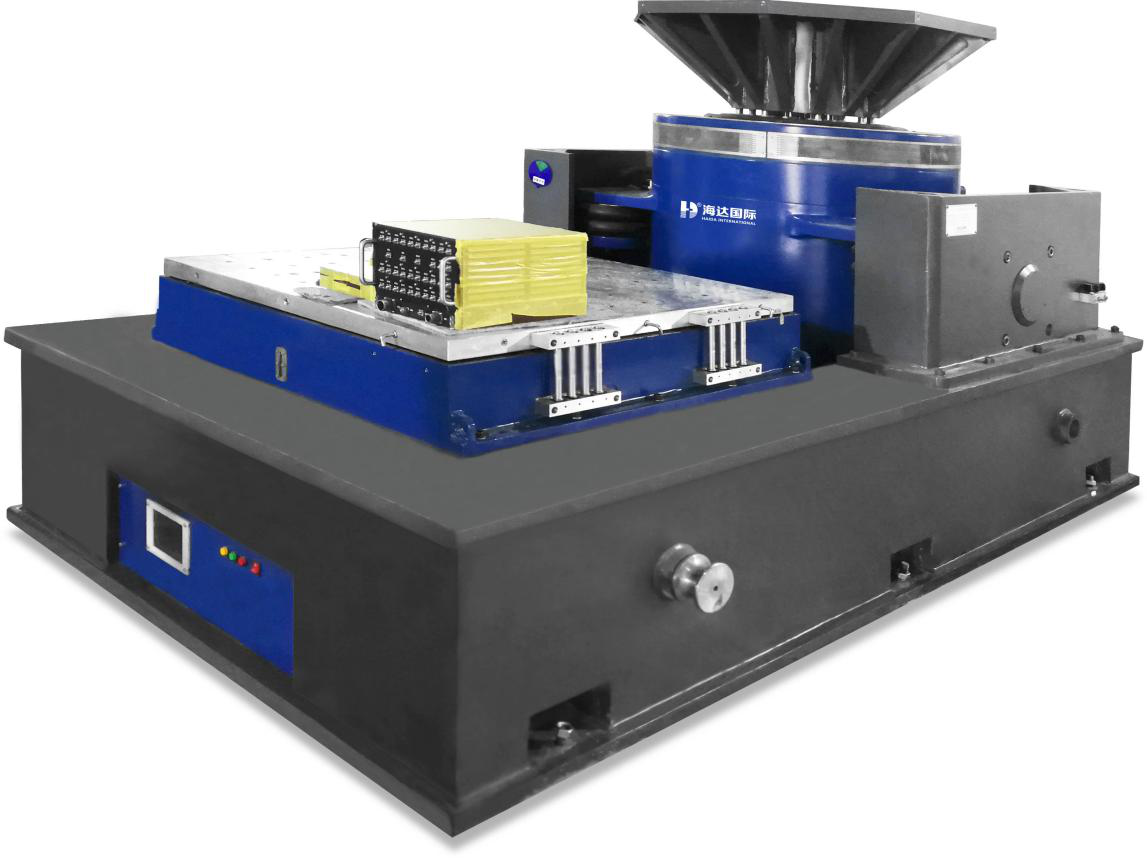 POWER AMPLIFIER AND BLOWER
HORIZONTAL SLIP TABLE & VERTICAL HEAD EXPANDER
PRODUCT DESCRIPTION
Electro-dynamic vibration Shaker provides a testing platform for packing and transportation simulation, mechanical shock, mission profile and any other real-world condition simulation. Utilizing the most advanced controller, the closed-loop system can accurately reproduce real-world vibration conditions on products from the industries like electronic, automotive, aerospace, aviation, etc.
FORCE FORMULA AND VIBRATION GENERATOR STRUCTURE
WORKING PRINCIPLE
INSTALLATION INDICATION
TECHNICAL PARAMETERS OF VIBRATION SYSTEM
Item

Description

Force

(Maximum)

Sine

600Kg.f peak

Random

600Kg.f r.ms

Shock

600Kg.f peak

Frequency Range

5~2500 Hz

Max. Displacement

(Peak to Peak) 51mm

Max. Velocity

1.8m/s

Max. Acceleration

100G (980 m/s2) without loading

Vibration direction

Vertical and horizontal

Armature Diameter

Ф200 mm

Effective Armature Mass

6kg

Table screw

17×M10

Max. payload

300kg

Magnetic Leakage

<10gauss

Axial Vibration Isolation Frequency

2.5HZ

Allowable eccentric moment

>300N.m

Dimension

1200mm*790mm*840mm (Head Expander is excluded)

Weight

1600kg (Slip Table is excluded)

Power supply

AC 3-phase 380V/50Hz,18 KVA

Grounding resistance

≤4Ω

Air compressor

0.4-0.6Mpa (provided by customer)

Cooling method

Air cooling
TECHNICAL PARAMETERS OF POWER AMPLIFIER
| | |
| --- | --- |
| Item | Description |
| Output Power | 8KVA |
| Output Voltage | 120Vrms |
| Conversion Efficiency | ≥90% |
| Signal to noise ratio | ≥65dB |
| Dimensions | L 800×W 600×H 1558 mm |
TECHNICAL PARAMETERS OF HEAD EXPANDER
| | |
| --- | --- |
| Item | Description |
| Expander Size | 500*500mm |
| Material | Aluminum alloy |
| Max. Work Frequency | 2000Hz |
| Fixed connect hole | M10 stainless steel nut |
| Weight | 35kg |
TECHNICAL PARAMETERS OF SLIP TABLE
Item

Description

Table Size

500*500mm

Material

Aluminum alloy

Max. Work Frequency

2000Hz

Fixed connect hole

M10 stainless steel nut

Hole space is in a rectangle of 100 * 100mm

Weight

52kg
TECHNICAL PARAMETERS OF BLOWER
| | |
| --- | --- |
| Item | Description |
| Power | 4kW |
| Air Volume | 0.3m3/min |
| Dimensions | 1150*1080*1970 mm(L*W*H) |
HAIDA INTRODUCTION
Founded in 2004, Haida® is the recognized Dongguan, China market leader in the testing equipment industry, having four main manufacture series: Accelerated Environmental Series (AES), Universal Tensile Machine (UTM), Paper & Packaging (P&P), Foam, Furniture & Optical (FFO), also involved in Leather, Textile, Mobile, Automobile, Leather and Rubber, and other tailor-made testing equipment.
QUALITY ASSURANCE
1. The guarantee period with FOC within 1 year (not including expendable parts cost and transport & travel fees)
1.1 During the guarantee period, Haida shall supply free maintenance or replacement for the damaged part (just for non-expendable part) caused by non-human reasons;
1.2 If any quality problems occur within the guarantee period, and Haida must provide on-site service, the transport and travel expense shall be borne by buyer;
1.3 If any big quality problems occurs out of the guarantee period, Haida will provide a maintain service, the transport and travel expense shall be borne by buyer, also charge for a favorable price for new parts;
1.4 Haida will provide a lifetime favorable price to the buyer for expendable & non-expendable parts used in system operation, equipment maintenance;
2. The following conditions need to be paid reasonably even in the guarantee period:
2.1 Natural disaster
2.2 Operating mistakes
2.3 Voltage is not fit for our manual
2.4 Uninstall without our guides
2.5 Damaged for borrowing to others
2.6 Damaged for without authorized machine modification
2.7 Damaged for without authorized calibration
2.8 Without authorized transshipment mistake
3. Attentions: the machine cannot be used following situations:
3.1 Vibration, rocking place.
3.2 Direct sunlight.
3.3 Hot, dusty, damp places.
3.4 To ensure safe, AC supply of the machine should be well grounded.
3.5 Do not use strong solvents (such as: benzene, nitro oil) washing machine.
3.6 Do not inject water and debris into the machine to prevent damage to electrical components and electrical shock.
3.7 Machine's disassembly and debugging can only be measured by the State Department approved the units and the company, other people not allowed to overhaul.
FACTORY PHOTOS
ABOUT HAIDA
PART OF OUR COOPERATED PARTNERS